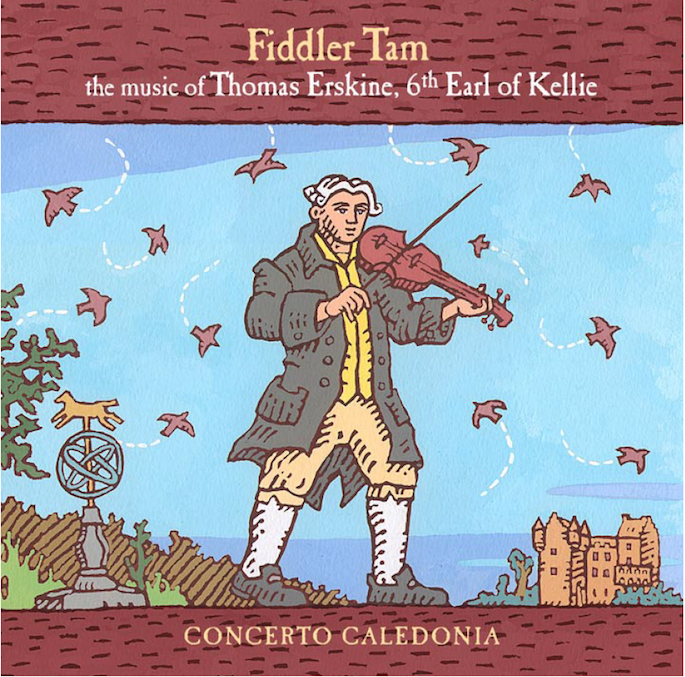 Fiddler Tam
the music of Thomas Erskine, the 6th Earl of Kellie
available at bandcamp
download at Apple Music
listen at Spotify
download booklet
with
Mhairi Lawson, soprano
Mannheim symphonies, songs, a string quartet, two trio sonatas, a largo for flute, and a strathspey and reel, all from Scotland's most colourful 18th-century composer - an album that rewrites Scottish musical history

I can't stop playing this delightful disc


The Times

Concerto Caledonia play with great style, understanding and fervour, for this is music which exudes energy, sparkle and enthusiasm


Sunday Herald






Spirited performances by Concerto Caledonia; I can't stop playing this delightful disc.

The Times

This CD offers a tremendous amount of pleasure, and it's difficult to know how much to attribute this to Kellie's talent and how much to assign to the verve and conviction of Concerto Caledonia. This crack ensemble makes the best possible case for Kellie's music, and one hopes, probably in vain, for a second volume. John Purser's liner notes for this disc are first-rate, as is the recorded sound, fine in CD format, and marvelously natural and unpretentious as a multichannel SACD; the instruments all have a strong presence and just the right amount of space around them. This music is by no means profound, but it is supremely entertaining, and delivered with aplomb.


Fanfare

The Earl of Kellie must be one of 18th-century Scotland's - and indeed Britain's - best-kept musical secrets. Listening to his Overture in C (effectively a three-movement symphony), it is almost impossible to believe that this strikingly energetic and eloquent music can really be the work of an almost-forgotten (and notoriously rakish) noble dilettante.
As a pupil of Johann Stamitz, Kellie was unusually well trained for an aristocratic amateur. Both the C major Overture and its companion in B flat are richly inventive and imaginative, abounding in the dramatic gestures beloved of the Mannheim school and in the nervous agitation and melancholy minor-key expressiveness of the fashionable Sturm und Drang style. It is easy to understand the latter work's great popularity not only in Britain but as far afield as Jamaica and St Petersburg. Concerto Caledonia's spirited, stylish performances do full justice to a delightful programme, which, in ranging from charming Haydnesque trios to a rollicking strathspey and reel, displays Kellie's exceptional talent and versatile musical personality.


Sunday Telegraph

The excellent Concerto Caledonia devote this latest recording to the music of Thomas Erskine, the 6th Earl of Kellie or "fiddler Tam" as the 18th century student of Stamitz and the Mannheim style, contemporary of Haydn and Boswell, and rabble rouser of some repute, was endearingly known to his close associates.
Concerto Caledonia, directed by harpsichordist David McGuinness, play with great style, understanding and fervour, for this is music which exudes an energy, sparkle and enthusiasm that could indeed suggest the Scottish origins of the Fiddler Tam soubriquet.
The symphonic Overture in C with its catchy rhythms, and the cheerful drive of the theatre piece, Maid of the Mill, are examples of a (then) new, exciting style which Kellie introduced to Britain, while the delightful three-movement Quartet in A is the outstanding piece on the disc. Soprano Mhairi Lawson adds sensitive, silvery-voiced readings of a short concert aria and the composer's only song. Concerto Caledonia has done a wonderful job making available this distinctive, but rarely heard, musical voice of Scotland.


Sunday Herald






David McGuinness and his ensemble Concerto Caledonia have built a notable reputation for bringing historically important early music back into circulation, and doing it with as much a sense of danger as of style. The emphasis is on style in this fascinating cross section of works by the 18th-century composer and colourful Scots aristocrat, Thomas Erskine, the 6th Earl of Kellie. His studies in Germany introduced Erskine to the famous Mannheim school, in particular Stamitz, and that influence comes over loud and clear in the dramatic style of overture and quartet contained in this highly enjoyable disc.
Songs (featuring Mhairi Lawson) and trio sonatas offer further variety, as does the catchy Lord Kelly's Reel - a quirky reminder of why Erskine was affectionately known as Fiddler Tam.


The Scotsman






The playing by the Scottish baroque ensemble Concerto Caledonia is wonderfully subtle yet vigorous, and the recording captures all its delicacy. A delightful CD.


The Times





Vivaciously played, with full use of the fashionably extreme dynamics of the Mannheim style, Fiddler Tam is an attractive tribute to an unusual talent.


The Independent on Sunday