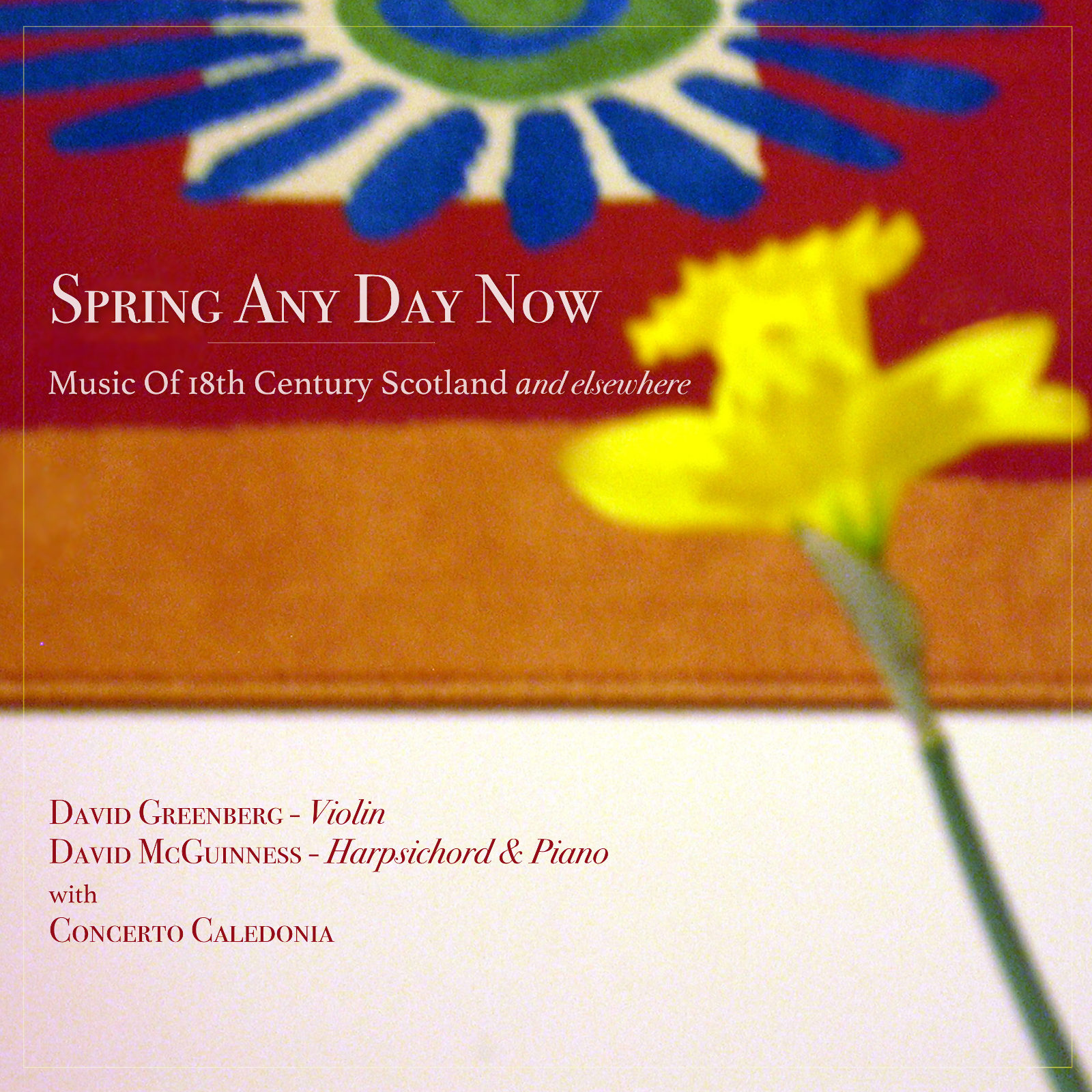 Spring Any Day Now
now with 5 bonus tracks from the original sessions
available at
bandcamp
download digital booklet
Wild and woolly fiddle tunes from the age of the Scottish Enlightenment, with music from Hungary and Finland, tunes by Frank Zappa and Fred Frith, and other entertainment.

Not your average collection of fiddle tunes then, and all the better for it ... what a surprising treat it is too!


BBC Music

You just might freak out when you hear this.


WholeNote, Toronto

Spring Any Day Now by David Greenberg and David McGuinness with Concerto Caledonia, is one of those curious albums that seems to define its own musical categories: narrow in some respects and bewilderingly broad in others. Its originators offer a partly helpful subtitle: "Music of 18th century Scotland and elsewhere." The cover features an IKEA rug, the credits explain that eight of the 14 tracks use the pitch A=415 Hz (a bit lower than the more usual 440Hz) and they thank "the various banks who through their zero interest credit cards, funded this recording without realising it. Ha ha".
As well as polishing the tarnished image of the financial services industry, Greenberg (baroque violin) and McGuinness (harpsichord) delight in finding tunes in the most obscure and unlikely places. There are pieces from William McGibbon's 1750s Collection of Scots Tunes; from Playford's Psalms and Hymns of 1671; from "the early repertoire of Finnish fiddle gods JPP"; from Robert Bremner's Curious Collection (c1762). No less attractive, though less baffling to me, are cover versions of tunes by Frank Zappa and Fred Frith. Their reading of Zappa's Echidna's Arf (of You), played by a baroque ensemble in an echoey schoolroom acoustic, strips the jazz-rock warhorse (originally heard on Roxy & Elsewhere) of its, er, Frank-ness, perhaps uncovering a secret celtic soul to the Mother.
Spring Any Day Now and Norrgarden Nyvla were originally found on Fred Frith's 1980 Ralph Records album Gravity. Greenberg, McGuinness and Concerto Caledonia give Frith's tunes a timeless, slightly faded grandiloquence.

John L Walters - The Guardian

Don't be fooled by this recording's description, "Music of 18th century Scotland and elsewhere." Unlike Greenberg's usual presentation of jigs and reels, this one leans to "the wild side." With Greenberg playing violins, McGuinness on various keyboards, and Concerto Caledonia, the listener is in for a very special treat.
The title track, a 1980s tune by Fred Frith, is the first surprise. My favourite, Echidna's Arf (of You) by Frank Zappa, is filled with signature musical mood swings which acquire a "classical rock" quality in this arrangement. Even 16th century O lusty May has the sparkle and freshness of a good old Dixieland jam session in the hands of these performers.
The traditional offering includes tunes from William Christie's 1820 collection. With harmonium accompaniment, some tunes take on an almost-jug-band mountain country feel. The harpsichord is also used effectively throughout, and the moving solo melodica sets the mind to thinking of far off places.
This is not really a complaint, but a lot of this recording is just not Scottish! So, I say, "Buyer beware!" You just might freak out when you hear this. Not your ordinary fiddle recording.

Frank Nakashima - WholeNote

It's not that often that you get the dubious pleasure of writing about music that combines elements of Scottish, Cape Breton and Finnish folk, avant garde guitarist Fred Frith and the grand old iconoclast, Frank Zappa, but today is one of those days. It's a dirty job but someone has to do it and, wait gentle reader...what a surprising treat it is too!
David McGuinness, director of the baroque ensemble Concerto Caledonia (also appearing here) has had a busy year. He's already turned in some gorgeous work, scoring and arranging strings for Paddy McAloon's lovely I Trawl The Megahertz and now he turns his expertise to this joint project with violinist and Cape Breton fiddler David Greenberg. The subtitle 'Music of 18th century Scotland and elsewhere' is fairly self-explanatory if a little misleading as several tunes fall on either side of the century. Strathspeys, jigs, reels and hornpipes from various sources are all fed through Greenberg and McGuinness's loving, yet idiosyncratic arrangements. Greenberg's training as a classical violinist adds a precision not usually found in such material, while McGuinness's deep knowledge of baroque forms makes his accompanying harpsichord, piano and harmonium fit the bill nicely.
The 'elsewhere' provides both light relief and food for thought. Spring... is named for a Fred Frith tune from his album Gravity and opens the set. McGuinness chose the tune for its optimism and, indeed, Frith's ability to forge faux-folk sits perfectly here as does his wonderful ''Norgarden Nyvla'', taken from the same album. Under the two Davids hands the latter becomes kind of Penguin Café meets Hungarian dance which (appropriately) blends seamlessly into ''Szapora From Kalotaszeg''; a medley by Csaba Okros. Finnish folk also gets a look in as the duo attack a trio of tunes from ''Finnish Fiddle Gods'' JPP's repertoire with gusto and consummate ease.
Added to these are originals from Greenberg and McGuinness and a stunning transposition of Zappa's ''Echidna's Arf (Of You)''. Inspired by The Ensemble Ambrosius' equally stunning performance of Frank's work on baroque instrumentation, this takes one of his trickiest set pieces from the classic 73/74 period and effortlessly blends it with a hornpipe. Most fitting, as Zappa himself loved the recorded work of Uffa Fox!
So, not your average collection of fiddle tunes then, and all the better for it. The mood is never sombre or too respectful and this pair should be encouraged to give us more. Another fine example of tradition in flux...


Chris Jones - BBC Music

David McGuinness and his Concerto Caledonia never fail to add spice to a performance of early music. This release on EMI's Canadian label Marquis is no exception. The presence of violinist David Greenberg, at home in either jazz or Baroque, is reflected in a programme that doesn't limit itself to the 18th century - as the presence of Greenberg's own Swingin' Jim Johnson's Birthday Blues and Frank Zappa's Echidna's Arf (Of You) shows. It makes for robust entertainment alongside the douce Scots charm of early composers William McGibbon and Robert Bremner.


The Scotsman