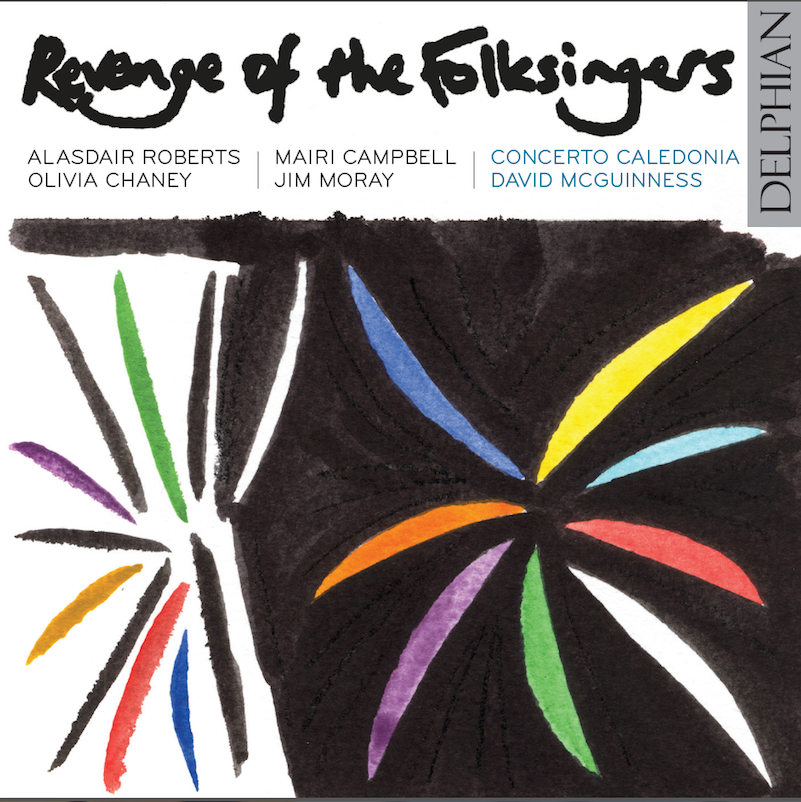 Revenge of the Folksingers
with
Alasdair Roberts - Olivia Chaney
Mairi Campbell - Jim Moray
nu-folk in early music clothing:
traditional and original songs with old and new tunes from Scotland,
recorded in the Suffolk countryside at Aldeburgh

best record of the summer


Norman Lebrecht

Folksong is a subversive art, the caustic wit of the deprived. This album subverts the varied British genres, though not by subjecting them to radical politics or wilful distortion. This is a much more subtle process on traditional instruments, altering existing arrangements to take the ear by surprise with unexpected conjunctions.
The opening number, Foggy, foggy dew, exemplifies the acuity of this improvisatory approach. A song that is usually droned in smoky dens opens with a pluck of what I think is a nyckelharpa [it's a dulcitone - Ed.], stating the singing widower's solitude before other instruments add dimensions, dark and light, to his lament. The Salley Gardens takes sarcastic liberties with Benjamin Britten's famous arrangement, listing bray harp and dulcitone in its instrumentarium. The third track, Bonnie Susie Cleland, is unbearably tragic yet delivered deadpan, as if tragedy is innate to Scottish life.
The performers are members of Concerto Caledonia and the voices are pitched to perfection, midway between rough trade and concert flourish. Track by track, the album exerts an ever more insistent traction. The recording was made in Aldeburgh, the morning after a concert residency. Any background noise you might hear must be the ghost of Peter Pears. Best record of the summer, so far.






Norman Lebrecht, La Scena musicale

One of the most interesting albums, I think, of the last 12 months


Mike Harding, BBC Radio 2

Bridging the gap between 'high' and 'low' culture – a gap previously filled by the likes of Anthems in Eden, the 1969 album by Shirley and Dolly Collins with David Munrow's Early Music Consort of London or Philip Pickett's work with The Albion Band – Revenge Of The Folksingers marks an inspired collaborative meeting of minds between the Scottish early music group Concerto Caledonia, under the direction of David McGuinness, and folk music innovators Alasdair Roberts, Olivia Chaney, Jim Moray and Mairi Campbell.
A weeks' residency in Snape gave those involved the opportunity to explore common ground, before recording; working from scratch on both traditional and original songs and tunes from Scotland, as well as drawing on Britten's folksong arrangements found in Aldeburgh's library. The results are richly textured, free-spirited, light of touch and joyously eclectic. Musically, the wealth of talent is unquestionable: subtle layers, gentle brilliance. The production glows with warmth.
Repertoire ranges from spruced-up old familiars to heavyweight newcomers. All the standards are given a vigorous shake out in the fresh air: The Foggy Dew is imbued with torch-song elegance by Moray; The Salley Gardens is made snowflake-fragile by Mairi Campbell's vocal and Bonnie Susie Clelland is rendered gut-wrenchingly painful in tender duet between Alasdair Roberts and Olivia Chaney.
Then, from the leftfield, comes Ivor Cutler's quaint OK, I'll Count To 8 'mashed up' with the intro to Britten's O Waly Waly. And still then, some staggeringly good original songs. Roberts' gloriously gothic lyricism shines in his 'song of metaphysical enquiry' The Sacred Nine & The Primal Horde. And Olivia Chaney has the Midas touch, both as vocalist and as a songwriter of substance: songs of denial (!) Swimming In The Longest River or of Levi Stubbs' Tears humanity in Daddy Oh, I'm Hoovering. Beautiful.

fRoots - November 2011

Wilfully provocative as the title may be, it's not entirely fatuous, perhaps a tongue-in-cheek reflection of the mutual suspicion that tends to lurk in the great divide between folk song and art music.
While various celebrated composers – Benjamin Britten, George Butterworth and Ralph Vaughan Williams among them – drew prodigiously on English folk song and helped to put it back into circulation in the process, the spiritual chasm between musicians who follow the dots and those who play instinctively tends to be a gaping one.
With some success, Dolly Collins notably attempted to knit these two opposing cultural mindsets in the 1960s with both her sister Shirley and David Munrow's Early Music Consort, but the camps have rarely met since. All of which only adds fuel to this intriguing experiment.
Previously applying free-thinking early music elegance to everything from Robert Burns to Frank Zappa, Astor Piazzolla and the Buzzcocks, Concerto Caledonia – under the direction of David McGuinness – now turn their attention to the folk tradition. Co-opting four of the brightest young guns in the new folk army – Jim Moray, Alasdair Roberts, Olivia Chaney and Mairi Campbell – they decamped to Suffolk for a week to revive and reclaim an alliance between folk music and classic instruments and arrangements.
Mostly it works, too. Hearteningly free of the clichéd stylisation often associated with both corners, it encompasses enlightened treatments of some well-worn warhorses like The Foggy Dew, The Salley Gardens and Lincolnshire Poacher alongside fresh self-written material and the occasional enticing curve ball such as the Roberts/Chaney duet OK, I'll Count to 8, which entertainingly marries an Ivor Cutler ditty to the intro of Britten's O Waly Waly.
It's an album that certainly marks the blossoming of the classically trained Chaney, who's fully embraced folk music to emerge not only as an outstanding singer but an exceptional songwriter. Sung with appealing vulnerability over measured string accompaniment, her Daddy Oh, I'm Hoovering is a heartrending study of kitchen sink desolation, and her even starker The King's Horses, which closes the album, confirms her arrival as a major talent.
Oddness abounds, but the revenge is very sweet.

Colin Irwin, BBC Music

It's a dangerous thing to categorise Concerto Caledonia, whose loose make-up of personnel allows it to cross musical borders with an ease of conscience that is always refreshing, and occasionally a shade anarchic. Classical or traditional? This CD - a result of a residency last winter in the isolated charm of Aldeburgh - is an enigmatic as the title suggests. Artistic director David McGuinness explains a process that saw him draw together his "17th-century dance band", vocals included, take a cursory look at Aldeburgh legend Benjamin Britten's folk song arrangements, toss them aside (apart from The Salley Gardens, rearranged for the disc) and come up with arrangements of their own - from settings of Burns to Hamish Henderson and featured singer Olivia Chaney - as well as traditional pavans and galliards peppered with tinkling orchestrations. It's well-tempered fun, as you'd expect from McGuinness and his wacky pals.


The Scotsman

This CD is the result of an unusual collaboration and residency. The folk musicians Alasdair Roberts, Mairi Campbell, Olivia Chaney and Jim Moray met the early-music group Concerto Caledonia for a week of improvising, surrounded by "volumes of Benjamin Britten's folksong settings". The entire CD was recorded in a day at the end. The material ranges from traditional to newly written, with some less than reverential nods to Britten. The harp-heavy arrangements sometimes veer close to all-purpose Celtic doodling; elsewhere there is a real sense of different traditions finding common ground.


The Times

From settings of Burns to Hamish Henderson, this arresting collaboration unites period instrument specialists and some of the leading lights on the UK folk scene to explore each others homelands and the disputed borders in between with enthralling and occasionally raucous results. In the notes, Concerto Caledonia leader David McGuinness refers to "reclaiming some traditional songs from recital room culture" which is where the Revenge of the Folksingers title comes from. So what you get in this repertoire is a combination of the early music instruments and Scottish compositions - it's great!


footstompin.com