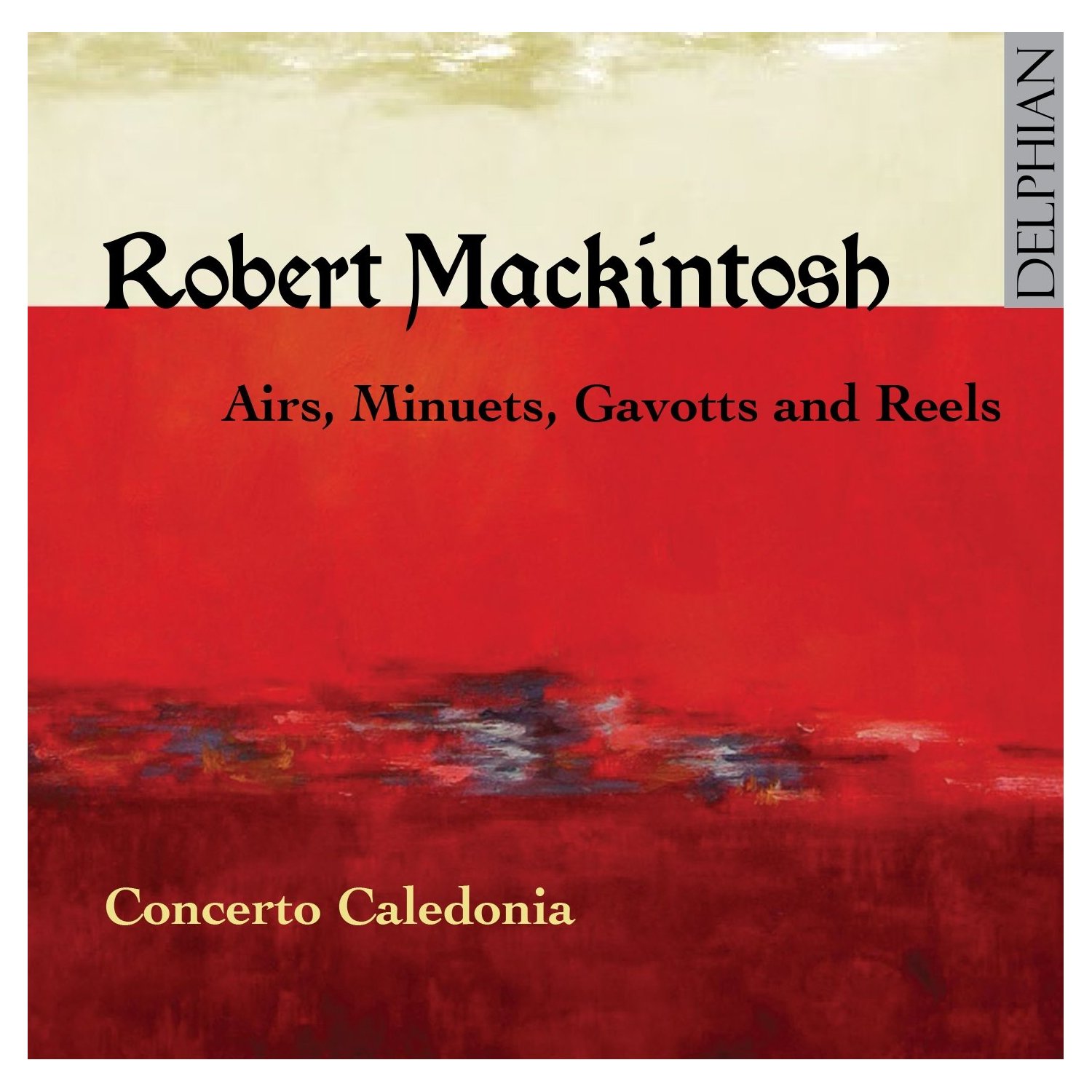 Airs Minuets Gavotts and Reels
David Greenberg, Greg Lawson, Alison McGillivray & David McGuinness explore the unrestrained variety of

Robert 'Red Rob' Mackintosh

's music from 1780s Edinburgh.

gutsy reels, polite minuets, a virtuosic violin sonata, piano variations (played on an 1815 Edinburgh piano) and the sense of a life lived on the edge

This is life-enhancing stuff – a disc guaranteed to put a spring into the heaviest, most jaded of steps.

theartsdesk.com
Is it folk?
Is it art?
You decide ...

I am horrified to realise how little I know of Scotland's music. And here is a revelation, thanks to that Indiana Jones of Scottish music, David McGuinness, and his piratical band, Concerto Caledonia. Robert Mackintosh, known as "Red Rob", was a Perthshire musician, born in 1745, and clearly a man with an enquiring mind and a broad palate. His fascinating history, which took him all over Scotland and down south, is recounted in detail in the liner notes for this irresistible CD, which features the music of his first published set of pieces, an enthralling collection in both classical and what we now call traditional styles. Reels nestle foot-tappingly alongside gavottes (spelled here with no "e") and minuets, all traditional classical forms, but with a twang, and there is a wonderful so-called Solo, in effect a three-movement solo sonata. The playing is exhilarating, and wait until you hear McGuinness going mental on the square piano. Brilliant – and important – stuff.


Michael Tumelty, Sunday Herald 7 April 2013

Robert Mackintosh, known as "Red Rob", was born in the 1740s and died in 1807, having spent most of his life as a violin teacher and composer in Edinburgh and Aberdeen. Intensive googling didn't supply me with much more in the way of biographical info, but a few minutes in the company of Mackintosh's music leads you to speculate that he'd have made convivial, lively company. This is life-enhancing stuff – a disc guaranteed to put a spring into the heaviest, most jaded of steps. Mackintosh's adherence to fairly standard musical forms doesn't restrict his imagination, and the sequence of dances on this recording teem with life. He was never "a composer who missed greatness by a small margin" as one writer suggested, but a highly entertaining minor talent.
The pieces here are all taken from Mackintosh's first collection of violin pieces, published in 1783. Some are duets, and they're all pleasingly accompanied, variously, by cello, harpsichord and a nicely rattly square piano. Several of the minuets feel a little strained, but the reels are effervescent. An extended three movement solo finishes with a witty jig. Close your eyes and you're transported back in time. Idiomatic, affectionate performances from a downsized Concerto Caledonia. Delicious.


theartsdesk.com 6 April 2013

Record shop proprietors – such as are left in these uncertain times – will be scratching their heads yet again as to exactly which rack in which to place the latest recording from Scottish early music champions Concerto Caledonia: "Folk, classical... or what?"
Featuring David Greenberg and Greg Lawson on violins, Alison McGillivray on cello and director David McGuinness on harpsichord and piano, Robert Mackintosh: Airs, Minuets, Gavotts and Reels (Delphian) delivers exactly what it says on the tin, celebrating the music of the Perthshire-born fiddler and composer "Red Rob" Mackintosh, a product of the 18th-century "golden age of Scots fiddling", whose reputation hasn't worn quite as well as his near contemporaries Niel and Nathaniel Gow or William Marshall.
Born around 1745, Mackintosh, like his contemporaries, played and composed "folk" and "art" music without any great distinction, except perhaps in the venues in which they were performed – dance assembly, drawing room or that newfangled concept, the concert hall. The album is drawn almost entirely from Macintosh's first published collection, Airs, Minuets, Gavotts and Reels – the kind of repertoire, says McGuinness, that suggests an all-round musician showing what he can do, although in fact Mackintosh's "classical" material has tended to fall by the wayside, while it is his brisk reels that tend to be played today.
Unlike some of this adventurous early music outfit's more eclectic projects, the players lift the composer's work faithfully off the page, to render it in the style in which it would have been delivered, taking the advice of Mackintosh's title page and accompanying the tunes with either cello or harpsichord, while occasional use is made of a square piano built in Edinburgh around 1815, as a nod to the fact that the piano started to make its presence felt in music-making in the city shortly after the book's publication in 1783.
McGuinness gives that venerable instrument the time of its life in The Duchess of Gordon's Delight, the one track taken from Mackintosh's second collection.
Listen to McGillivray's wonderfully springy cello accompaniment louping along under Greenberg and Lawson's animated fiddling in tunes such as Lady Betty Boyle's Reel, and you're hearing the kind of "bass fiddle" accompaniment that would have powered dance bands in Edinburgh's Assembly rooms during the later 18th century, Mackintosh's virtuosic showpiece is the more baroque-sounding three-movement Solo (which in fact features a busy harpsichord continuo), its introductory movement described by fiddler Greenberg as "Boccherini on steroids". There is, says McGuinness, "a wonderful angularity about Mackintosh's tunes. They whizz about the fiddle in quite a characteristic and unusual way."
That whole bass question is currently a preoccupation for McGuinness, owing to his involvement in Bass Culture, a three-year project involving Glasgow and Cambridge universities and the Royal Conservatoire of Scotland, which is challenging conventional thinking on the melodic basis of British and European folk music, and tracing the evolving nature and importance of bass accompaniment.
The album's sleeve notes provide insight into the sometimes hand-to-mouth life of a professional musician of the day. That first tune collection of Mackintosh's sold at 7/6d, which, in 1783, as McGuinness points out, "represents over a week's wages for a skilled worker, and was also the sum the best of the capital's fiddlers might have earned for several hours' playing at a ball in the Assembly Rooms. However, out of town the gig rate was considerably less, so this was not a book that a working musician would casually add to their library; it was aimed primarily at amateurs 
with a higher disposable income."
In Mackintosh's case, the need to earn a living took him between Aberdeen and Edinburgh. Ultimately, the fiery haired and, by all accounts, abrasively tempered "Red Rob" went to London, where he died in 1807. The burying place of the man who produced such enduringly spirited music is not known.


Jim Gilchrist, The Scotsman 4 April 2013