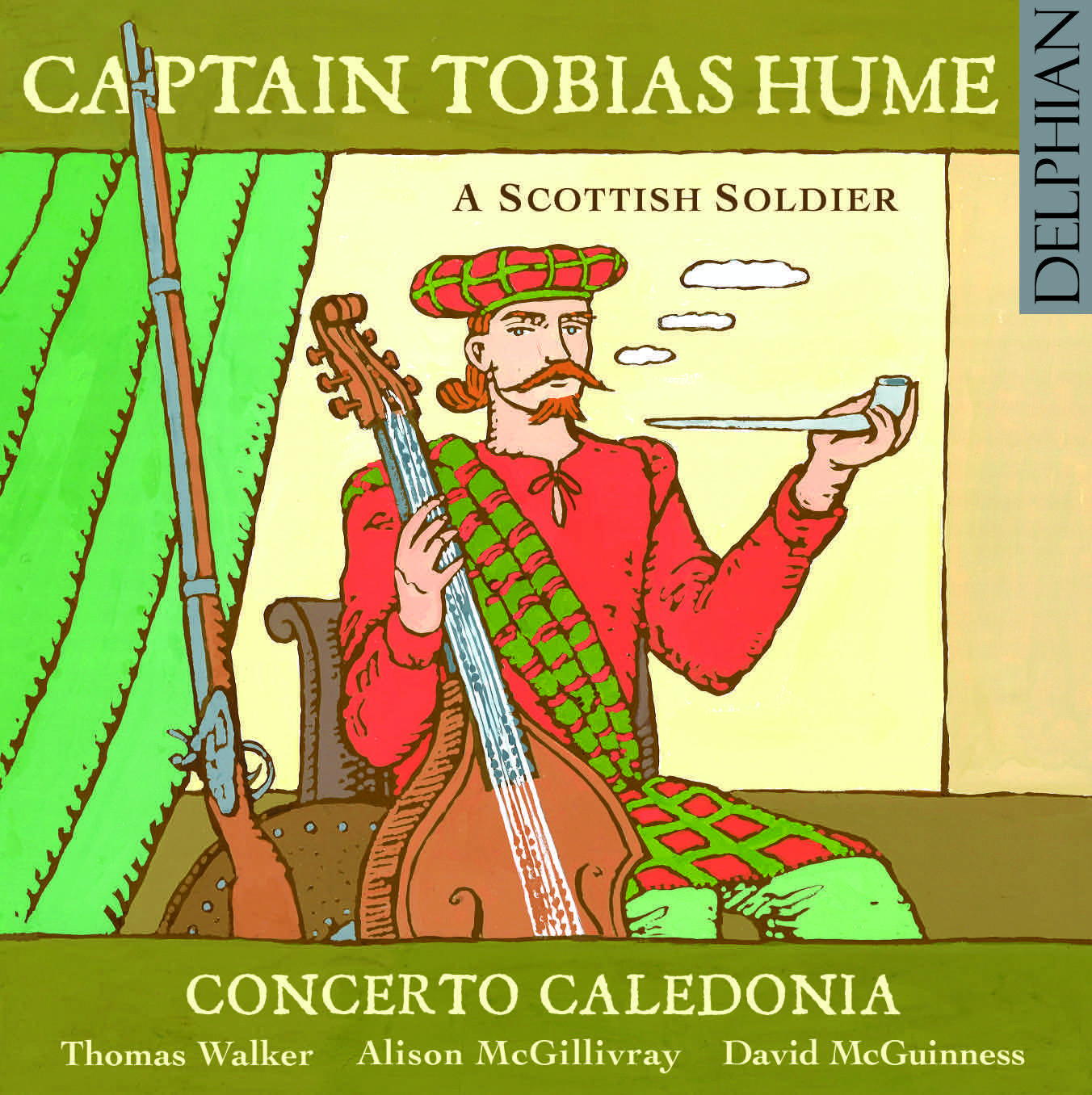 Hume: A Scottish Soldier
no-nonsense music from everyone's favourite 17th-century Scots mercenary
Thomas Walker, tenor
Alison McGillivray, viols
and a host of other instruments including nyckelharpa, orpharions, lyra d'amore, renaissance flutes, cittern, theorbo, virginals...

quirky chamber pieces spiced with plenty of harmonic false relations, catchily melodic dances, and songs that are robustly satirical, thrillingly martial or fashionably melancholic. A tartan tonic.

The Times
more on youtube

Long before union with England, Scotland had a vibrant musical tradition. On this delectably played disc the excellent Concerto Caledonia and tenor Thomas Walker dust off the ditties of one of its most flamboyant luminaries, Captain Tobias Hume, mercenary soldier, renowned viol player and Jacobean composer. Here are quirky chamber pieces spiced with plenty of harmonic false relations, catchily melodic dances, and songs that are robustly satirical, thrillingly martial or fashionably melancholic. A tartan tonic.


Richard Morrison, The Times 17 May 2014

Tobias Hume? He was a Scottish composer, the exact details of whose life are still uncertain. He composed an "Invention for Two to Play upone one Viole", an instrumental piece for one viol and two bows, where one player has to sit in the lap of the other. The mind boggles. Apparently it is playable, though it's sadly not included here. Hume was a soldier, confessing that "the only effeminate part of me, hath beene Musicke." It's thought that his military career took him to Sweden, Denmark, Russia and Poland. His favourite instrument was the viol, which annoyed lutenist and fellow composer John Dowland – who also probably disliked him for stealing some of his musical ideas. Hume died in 1645, ending his days living on charitable handouts and gathering snails for sustenance. All of which is fascinating, but wouldn't be worthy of attention if his music wasn't any good. As presented on this supremely entertaining Delphian disc (complete with cover art referencing Hume's glorious ode in praise of tobacco), it's engaging stuff.
This disc collects numbers from two collections which Hume published in 1605 and 1607. The viol timbre lends the instrumentals a harmonium-like warmth. The more elaborate pieces are sensitively, idiomatically realised by Concerto Caledonia. A Souldiers Galiard is pure joy, Chris Norman's Renaissance flute bouncing around on top. Tickell, Tickell's spare textures and flattened sevenths sound disconcertingly modern, and ultimately lead into a witty short number called Tickle me quickly, with a pair of viols seemingly conversing with each other. The handful of vocal items are sung by tenor Thomas Walker, always alert to Hume's sense of humour. "I sing the praise of honor'd wars/the glory of wel gotten skars" runs The Souldiers Song, and Walker's trumpet calls are magnificent. Hume's response to any criticism or challenge was typically blunt: "if thou doest dislike my Fancies, let me see thine." A delectable anthology – smartly-performed, beautifully recorded and well-annotated.


Graham Rickson, The Arts Desk 21 June 2014

Concerto Caledonia is directed by David McGuinness through an engaging selection of his airs and dances, with the lively tenor of Thomas Walker and a colourful selection of instruments, from flute and nyckelharp to orpharion, viols and virginals. It's an attractive recorded sound as well, sensitively balanced, and the notes manage to flesh out what little can be gleaned of Hume's life as a musician and a military man. He seems to have fallen on hard times after a lifetime of distinguished military service, dying in 1645, and you'll find Captain Tobias Hume: A Scottish Soldier on the Delphian label - it's just released - there's a song on it in praise of Tobacco, and Hume is depicted on the sleeve with viol and musket, puffing a pipe. Doesn't that mean it should be sold in a plain cover?

Andrew McGregor, CD review, BBC Radio 3, 17 May 2014

CD mention this week goes to the roving Scottish early music outfit Concerto Caledonia and their new disc of music by Tobias Hume. We don't know a whole lot about Hume, except that he was a soldier, a composer and a mean viol player. He left behind two volumes of beguiling music plus some cheeky tidbits of self-promo ("Hear the Viol de Gambo in his true Majestie" –16th century equivalent of a Tweet?). ConCal bring his tunes to buoyant, boisterous life, giving every note a spring in its step, while tenor Thomas Walker croons, cries and caresses the vocal numbers. Hume once described music as his indulgence – "my Life hath beene a Souldier," he quipped in 1605, "and my idlenes addicted to Musicke" – and this recording duly conjures a sense of unmitigated fun.


Kate Molleson,The Big Issue 4-10 May 2014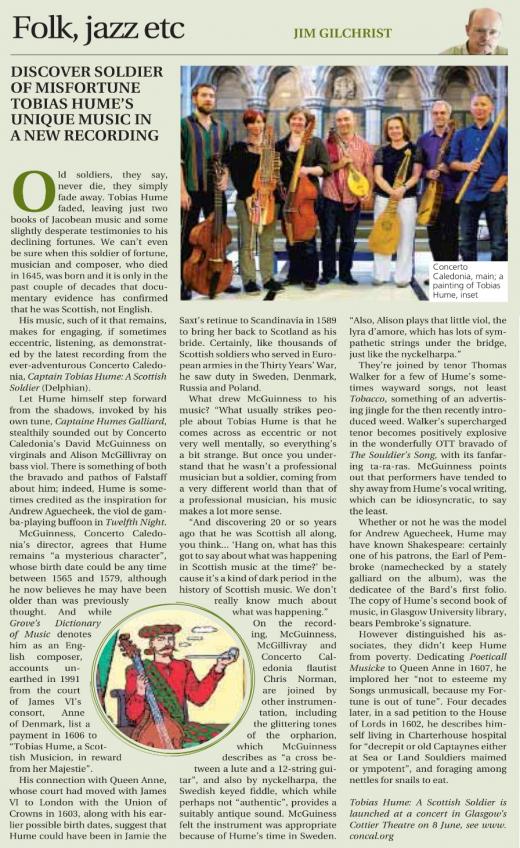 The Scotsman, 31 May 2014

A soldier, a musician and a bit of a mystery, Tobias Hume is an extraordinary figure in Scotland's classical music history - and yet we know next to nothing about him.
He lived and worked around the turn of the 17th century; that much we can deduce from his two published volumes of viol tunes, First Part Of Ayres (1605) and Captaine Humes Poeticall Musicke (1607). By his own description he was a military man first and an artist for pleasure: "My Profession being, as my Education hath beene, Armes," he wrote; "the onely effeminate part of me, hath been Musicke".
Life as a soldier meant he travelled a lot - Russia, Poland, Sweden, Denmark, probably more - and travelling means it is hard to keep track of him. He turns up in Polish records from the 1620s and is mentioned in the court papers of Queen Anne of Denmark. Any real details of Hume's life are tantalisingly sketchy. We do not know where or when he was born, or where he spent a good 20-year chunk of his life, or why he ended up a pauper who had to forage snails for food among the nettles. Thankfully, his music has been better preserved than his life story.
All of this makes Hume a magnet for inquisitive-minded musicians who like a rummage through the dusty archives. Jordi Savall is one such: the great Catalan viol player has championed Hume's music for decades, always with that inimitable, whimsical Savallian flair. Now a new album from Concerto Caledonia - the Glasgow-based specialist in early Scottish music - shines fresh light on this most eccentric, gallus and evasive of early Scottish composers.
There is one fact Concerto Caledonia intends to set straight from the outset. "Grove's Dictionary Of Music describes Hume as an English composer," says the group's founding-director David McGuinness, wagging his finger reprovingly. "So it is no coincidence the album cover shows our man decked out in tartan bunnet under the title Captaine Tobias Hume: Scottish Soldier."
This is not about petty nationalism, says McGuinness, nor is it simply a nod to an Andy Stewart line. "It is about reclaiming one of our artists and reversing a tendency in classical music to make Scotland's historical stuff invisible. It is about broadening our sense of cultural identity. We don't know our own heritage nearly well enough, so sometimes it is necessary to shout about it."
And shout they do. The album is raucous, bawdy, boisterous, sassy. Many of the tracks are straight-up dance tunes, infused with a party spirit that Hume might have picked up in Poland, Hungary or France. One song (Thomas Walker is the group's brilliantly gung-ho tenor) extols the intoxicating qualities of tobacco: Love often sets men by the eares, the lyrics brightly declare, so doth tobacco.
"Hume obviously liked to enjoy himself," says McGuinness, full of admiration for this brilliant young Turk of the 17th century. "There is this great bravado about him. He wrote music for pleasure - that much always shines through. Plus he was an inventor. At one point he writes that if you want to hear the viola da gamba in its true majesty you should add three extra strings to its bottom range. Now, that is a bonkers idea: you would have to rebuild the instrument and add a peg box. Crazy! But Hume had this desire to push beyond the boundaries of what was possible, and I like that."
McGuinness describes him as a maverick, a radical. "If he has always been painted by music history as a slightly unstable eccentric, maybe that's because he drew on a load of diverse, cosmopolitan influences from his travels. It has not been possible to pin him down. Some of his music has real emotional depth and is structurally very complex. Other pieces are just throw-away bits of fun."
We do know Hume played the viol: that sweet-voiced predecessor to the cello that was brought over from France in the 1500s and for a period became instrument of choice for Scotland's noble classes. (A wealthy family would have kept a chest of viols in their sitting room and played together of an evening for entertainment - think the Renaissance equivalent of watching telly together nowadays.) McGuinness suggests Hume would have also sung the vocal parts to his songs while accompanying himself on the viol. Judging by the staggeringly wide range in some of the songs, he must have been no mean crooner.
He was also no mean chancer. It's possible he knew Queen Anne of Denmark from having sailed to Copenhagen in the retinue of James VI; certainly he found favour in her court. Anne herself played the viol and Hume dedicated many of his most intimate works to her. Her favourite song, he claimed, was Tickle Me Quickly; how literal its title is anyone's guess. Then again, almost everything Hume wrote is published with some royal dedication or other.
"It's quite possible he would have published the same tune several times, each one with a different dedicatee," McGuinness explains. "That way he could earn a patronage fee several times over."
Meanwhile, all around him the cultural world was in radical upheaval, everything changing at different rates in different places. Opera had just been invented in Italy; London's composers were steeped in verse anthems and lute songs. This was the cusp of the Renaissance and baroque, and transient characters such as Hume could forge their own path. For McGuinness, that unruliness is a major part of the appeal.
"Often when we were recording this album I would be thinking, 'What is he doing?'," he says. "Hume's logic is impossible to follow, but somehow it holds together in its own weird and wonderful way. I would love to know how he wrote the stuff. Sometimes it seems like he was making it up as he went along."
Captain Tobias Hume: A Scottish Soldier is out now on Delphian.


Kate Molleson, The Herald 4 June 2014

Some composers attract attention for other than strictly musical reasons. One of them is Gesualdo, for murdering his wife and her lover. Another is Stradella, who paid for his womanizing by being stabbed to death. Tobias Hume is also someone who fascinates, especially because he led an adventurous life as a professional soldier. His comments about his exploits further excite the imagination: we meet a person who is not exactly modest about his qualities as a soldier or about his musical skills. The fact that so little is known about his life leaves the field clear for the imagination. It is impossible to write his biography: we don't know when he was born and there is even a gap in the information about his whereabouts between 1607 and 1629.
In the former year he published a second book comprising vocal and instrumental pieces. It was preceded in 1605 by his first collection of basically the same content, although less organised. These were not so much a token of his social standing but rather of his precarious position. The second book was dedicated to Queen Anne, and he described it as "the last hope of my labours". It is also telling that his name is hardly ever mentioned by other musicians and composers of his time. A remark from the pen of John Dowland is rather negative, as he defended the lute against Hume's championing of the viol.
The two collections were first and foremost intended for the viola da gamba, the instrument Hume himself played. However, Hume suggested alternative scorings, with ensembles of various instruments, including wind. It is this suggestion which has been picked up by the Concerto Caledonia, which plays using gambas, flutes, virginals and several plucked instruments, such as the orpharion and the cittern. The ensemble includes a nyckelharpa, a traditional Swedish instrument which is used here as "an acknowledgement of his [Hume's] time in Sweden, and as a counterpart to the lyra d'amore, a tenor viol with sympathetic strings". I find this aspect of the scoring on this recording the least convincing. Hume's two collections were intended for the English market, and in the article on the nyckleharpa in New Grove I haven't found any suggestion that this instrument may have been known, let alone played, there in Hume's time.
However, it is hardly an issue in the assessment of this disc. Hume's music is well represented in the catalogue, and his music is sometimes performed with various instruments with viole da gamba dominant. That makes the approach by Concerto Caledonia all the more interesting, and they defend it with zest and imagination. This is a most delightful disc which will give any listener about an hour of first-class musical entertainment. Thomas Walker gives a brilliant performance of The Souldiers Song, with its sound imitations, but is equally convincing in the more delicate Cease leaden slumber dreaming.
The booklet includes informative programme notes, and - most praiseworthy - a list of the selected pieces with their numbers in the two books of 1605 and 1607.


Johan van Veen, MusicWeb international

Hume achieved some degree of popularity when his two publications of 1605 and 1607 were issued in facsimile some 40 years ago and pluckers encouraged singers to try out the music. A major ambition was to compete against the popularity of the lute. I associate his music particularly with our regular viol reviewer Robert Oliver, whose solo performance of voice and viol in Hume's Tobacco was impressive in the mid-1970s. So I was somewhat surprised to hear it performed by five players! The programme is a marvellous display of mostly lighter repertoire. As such I enjoy it hugely. But there's a sneaking suspicion that the arrangements don't relate closely enough to Hume's ethos. The notes by David McGuinness are marvellous. Hume's biography has become somewhat clearer in the last twenty years. Born between 1565 and 1579, some of his military activity must have been as a mercenary. He died after 1642. Do buy it!

Clifford Bartlett, Early Music Review 160, June 2014

Tobias Hume is the subject of Concerto Caledonia's fifth outing on Delphian, the composer himself subject to no less than seven other complete discs so far—not bad for a guy whom we know almost nothing about.
He was a confirmed military man with one "feminine"—as he called it—affection, which was music. He was born sometime between 1565-79, and we know that no less a personage than Dowland knew of him, primarily because the latter defended the lute against Hume's professed preference of the viol. His old age, if we can believe his letters, were not easy and near-destitute, not uncommon for a soldier back then—or now—despite the excellence of the military record. His music is wonderful, unmannered, creative, and simply self-reliant and direct in its communicability. The two sources here are his First Part of Ayres: Captain Humes Musicall Humors and Captain Humes Poeticall Musicke, the latter more focused in intention and directed at solicitation of funds in London from high-up sources, hence the many dedicated pieces.
Concerto Caledonia plays these works with humor, pathos, and an irrepressible spirit that one wonders if even Hume might think a little over the top. Their mastery of this music is unquestioned, and the sound, while vivid and well-spread, is also a little bright and harsh, easily corrected by turning the volume down as the whole seems to have been recorded at a very high level. Nevertheless, this is a fine recording that more than does justice to this worthy and curiously creative spirit who would have been proud to have all this attention today.

Audiophile Audition November 2014

Tobias Hume seems to have taken a sternly realistic look at his own life: 'My Profession being, as my Education hath beene, Armes, the only effeminate part of me hathe beene Musicke.' It was a theme to which he was to recur, amplifying the division more starkly still: 'My Life hath beene a Souldier and my idleness addicted to Musicke.' Effeminacy and idleness are clearly anathema to the fighting soldier that Hume presumably was, though biographical details are thin on the ground. He may have been born around 1565 to 1579. He certainly died in 1645. His petitions show an increasingly decrepit man, one whose balancing of warfare and music-making had not proved gratifyingly rewarding. It's believed that he served in Sweden, Denmark, Russia and Poland and recent research seems to show that he was Scottish and not, as long believed, English. John Dowland certainly had little time for Hume, calling him 'a stranger from beyond the seas'.
Two books of his music were published in the first decade of the seventeenth century; The First Part of Ayres or Captain Humes Musicall Humors in 1605 and the Poeticall Musicke two years later. The books promote short character and dance pieces as well as pastiches and instrumental lamentation, not forgetting the suggestion of foreign dance patterns - from Poland, for instance, where he had probably served as a soldier. Only five of the 22 tracks are of songs, the remainder being a series of Galliards, Alemains and the like. It's as well to note here that Concerto Caledonia do absolutely splendid things for Hume. They play with captivating verve, energy and character. The renaissance flute is heard to great advantage in the airy Fain would I change that note and the bass viol sounds excellent in its solo outing on Be merry a day will come as does the orpharion that joins it in A Toy. One can also enjoy the nyckelharpa in several pieces as well as the sound of the lyra d'amore, though what historical evidence there is for their use I can't say.
Programming ensures that the recital is varied, that the fast Start; The Lady of Sussex delight, for instance, is followed by a slower but intriguing A Pollish Vilanell. It's clearly a villanelle but it's very doubtful that it's Polish. The songs are sung with equal fervour and commitment by Thomas Walker who dispatches Hume's hymn to tobacco with lusty panache and elsewhere is scrupulous to get the right accent in these settings. For all his later despondency, he doesn't sound especially so in The Souldiers Song with its trumpet imitations in the vocal line and its celebratory exultation; 'O this is musicke worth the eare of Jove'.
There's no doubt that Hume was not above appropriating Dowland's idiom now and then. A galliard 3 sounds very Dowland-like. However, in the main, where Hume does stray into Dowland's waters he is proved to be the less analytical and creative artist by some way though often energetic and energising, for sure.
This has all been done so well that the interpretative and instrumental panache to be heard sometimes even obscures the occasionally threadbare musical invention. Still, this is a fine reclamation and should be thoroughly appealing to the inquisitive.

Jonathan Woolf, MusicWeb International