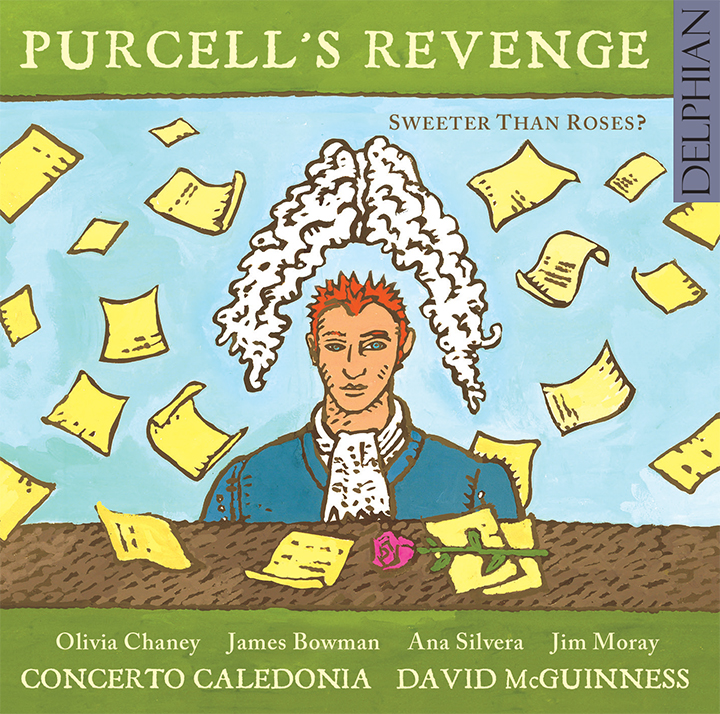 Purcell's Revenge
with
Olivia Chaney - James Bowman
Ana Silvera - Jim Moray
The Revenge team are back, and this time it's Purcell. Explorations, investigations and odd tangents from the music of Henry Purcell, with something to delight and offend nearly everyone.
"To say that Concerto Caledonia's album veers between maddening and utterly joyous is to put them well ahead of the curve." Gramophone
"It's like an evening round at Purcell's house: HP would have loved it." Catherine Bott
"It's irreverent, a bit dirty and a lot more fun than decent." Norman Lebrecht
more on youtube

To say that Concerto Caledonia's album veers between maddening and utterly joyous is to put them well ahead of the curve.


Alexandra Coghlan, Gramophone July 2015

This is perhaps one of the most singular recordings to have crossed this writer's desk in the last twenty years I have been reviewing CDs. Quirky yes, but also full of life, energy and accessible to all comers. Though it is full of early music, it also has modern instruments, settings, arrangements and original texts and music. Does it all work? Yes indeed, the quality is consistently captivating. This recording obliterates the notion that early music is a stuffy and or academic exercise. Give it a listen.


Toronto Early Music Newsletter June 2015

★★★★☆ There's not a swain on the plain when Purcell meets the folkies.
Once you accept music as a living, breathing language, and that there's a big difference between restoration and renovation, you can really let your hair down and have some fun. As Concerto Caledonia's director David McGuinness writes in the booklet accompanying this thoroughly entertaining follow-up to their equally irreverent 2011 take on Britten's folksong arrangements Revenge of the Folksingers, "there's almost a generally accepted international style in which to play baroque music, an idea which would have seemed preposterous in the musically diverse Europe of the 17th and 18th centuries."
As with the earlier CD, Purcell's Revenge is based on a live gig, and Concerto Caledonia (whose lineup includes early music luminaries like recorder player Pamela Thorby and Alison McGillivray on gamba), again teams up with folk musicians. Countertenor legend James Bowman is thrown in for good measure.
The repertoire ranges from arrangements of Purcell faves such as the Rondeau from Abdelazer, Sweeter than Roses and Fairest Isle to Purcell-inspired originals such as Chaney's Cassiopeia and Silvera's Halos. Despite mixed results – I was more convinced by Jim Moray's electric guitar than his vocal abilities – the overall effect is intoxicating. But the highlight must be Chaney's utterly exquisite arrangement and performance of There's not a Swain on the Plain. I have yet to take this track off 'repeat'.


Warwick Arnold, Limelight Magazine (AUS)

"It's always good to question our assumptions about performance of historical music," says David McGuinness, director of Scotland's rambunctious early music consort Concerto Caledonia. A few years back ConCal did a project in which folk singers such as Alasdair Roberts and Olivia Chaney wrapped earthy vocal hues around folk-song settings by Benjamin Britten. The result, Revenge of the Folksingers, was musically illuminating and great fun. Now ConCal has recorded a sequel, Purcell's Revenge, this time looking at the composer who so deeply inspired Britten. There is sultry singing from Chaney and Ana Silvera, and gutsy playing by the instrumental crew. But it's not all grit and sawdust; countertenor James Bowman gives a refined take on Sweeter than Roses and Jim Moray provides an eerily straight rendition of Fairest Isle. Stylistically it's a motley cross-section, which makes it exactly right. In his own lifetime Purcell's music was sung and played by all manner of musicians, Why not now?


Kate Molleson, The Big Issue March 2015

David McGuinness' Concerto Caledonia has a gift for springing anarchic surprises on the listener, In Purcell's Revenge, they take some of the 17th century Restoration composer's music, mix in a few Caledonian trifles by James Oswald, and serve it up in a hybrid sauce that will appeal equally to both classical and folk tastes. Take the well-known An Evening Hymn, for instance, robbed of its ground bass to reveal a beguiling ballade, ravishingly sung and arranged by Ana Silvera. Electric guitars appear beside harps, recorders and harpsichords, there's unadorned Purcell in the famous Rondeau from Abdelazer, and an appropriate bit of Purcellian smut in Aminta one night had occasion to piss, again tastefully arranged by McGuinness. Highly entertaining.


Ken Walton, The Scotsman, 14 March 2015

If, like me, you have a resistance to the fruitier type of English singer with perfectly rounded Etonian vowels and a faintly snooty intonation, you will warm like butter on a tea-cake to this Scottish assault on a precious English heirloom. Henry Purcell (1659-95) was a lad from the rough side of London. His songs, in the commonly-used modern settings by Benjamin Britten, sound altogether too polite.
Taken apart here by Concerto Caledonia, they revert to street food, accompanied on period instruments and reconnected to Scottish balladry. The voices are strictly folk club, far from the opera house, and all the lovelier for their earthiness.
'Fairest Isle', an art-song so iconic that the BBC named an English music year after it, is tossed off without a trace of sentiment. 'One Charming Night' from The Fairy Queen gets a quasi-rock intro and a bordello delivery. 'Music for a While' comes over as a ditty you might growl out over a sink full of washing-up. 'Aminta One Night had Occasion to Piss' could hardly be more expressive of an equally common domestic activity.
The restoration of Purcell to street level becomes a tad monotonous before the disc is done and some of the composer's flights of fancy are lost in the descent. But if, like me, you are fed up with upper-deck Purcell, this will serve as a refreshing corrective to soft-soap Peter Pears and his too-precious successors. It's irreverent, a bit dirty and a lot more fun than decent.


Norman Lebrecht, Sinfini Music