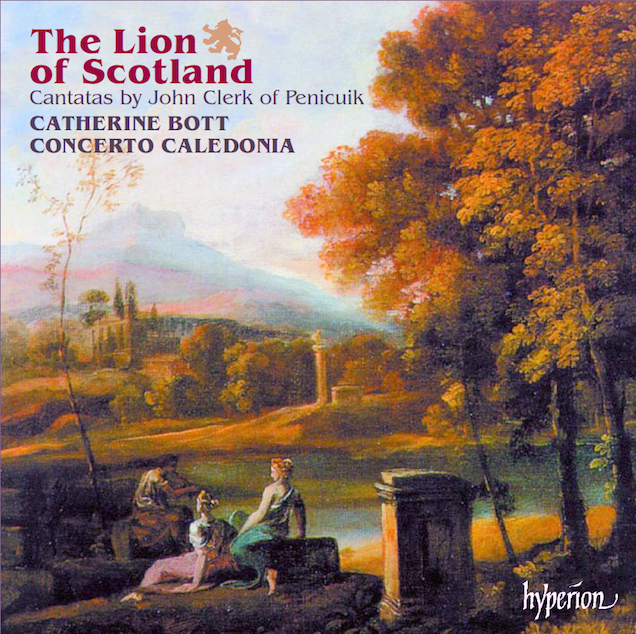 The Lion of Scotland
buy or download from Apple Music
Leo Scotiae Irritatus
and other cantatas by
John Clerk of Penicuik (1676-1755)
Catherine Bott, soprano
Hyperion CDA 67007
Reviews

Soprano Catherine Bott, one of our greatest exponents of Baroque music, has never sounded more winning, handling with dextrous ease the vocal pyrotechnics these demanding works command.
Definitely one of the most important releases of Scottish music, and one immeasurably enriched by John Purser's enlightening notes.


Andrew Clarke - The Scotsman
Pocket Guide
John Clerk of Penicuik

lawyer, judge, amateur architect, artist and poet, landscape gardener and musician

from John Purser's notes to The Lion of Scotland Hyperion CDA67007
John Clerk of Penicuik is not one of the world's most famous composers. In fact, until its next edition comes out, he doesn't even have an entry in Grove's Dictionary of Music. But he had the rare privilege of private tuition with Corelli, the most famous musician and composer of his time, and his surviving work is easily good enough not to be sniffed at. So why the absence from musical history?
He seems to have given up composition altogether by the time he reached 30, for a highly successful law career in his native Scotland: eventually he was one of the signatories to the Treaty of Union with England, although his music shows him to have been a keen Scots patriot. His work was never published, and as far as we know the music survives only in his own papers, which are lodged in the Scottish Record Office in Edinburgh - performances in the 20th century have usually been confined to academic circles. The instigation for our recording came (as with much else) from John Purser's enthusiastic uncovering of all kinds of Scottish music in his research for the BBC radio series Scotland's Music in the early 1990s. But for his informed bullying of many scholars and musicians, we would know a lot less about the country's musical heritage.
Our CD includes all of Clerk's substantial surviving works - five cantatas for soprano, and a violin sonata. Here's a quick resumé by subject matter.
1. SEX
The immense cantata Odo di mesto intorno celebrates the marriage of the Duke of Bedford, or rather its consummation, as the wedding itself had taken place some time earlier when the couple's combined age was 28. For the full story in all its explicit pornographic detail, you'll have to buy the CD and read John Purser's programme notes.
Dic mihi saeve puer is a plea to Cupid to be set free from the bands of beautiful supple young girls who apparently had an eye for Clerk (see picture above, aged 19). Whether he was determined to keep himself pure, or just didn't fancy girls, is not certain.
2. DEATH
Eheu! quam diris hominis asks God for redemption from earthly sufferings through death. Clerk had been suffering from smallpox, and his Dutch friend and librettist Herman Boerhaave was a physician who at one stage attempted to cure him.
3. PENITENCE
Miserere mei Deus is a setting of Psalm 51, in which David the psalmist asks forgiveness for his adultery with Bathsheba and the killing of her husband Uriah. Clerk may have felt guilt not just for hanging around the licentious culture of 18th century Rome, but for becoming associated with the Roman Catholic church.
4. THE SCOTTISH NATION
Leo Scotiae Irritatus (The Scottish Lion Enraged) tells of the doomed plan to set up a Scottish colony on the Panama isthmus. The last two movements, in which the Scots joyfully take possession of New Caledonia, have been torn from the manuscript. I wonder why ...
Add to this a violin sonata built according to Platonic ideals, and you have 68½ minutes of pretty fascinating stuff. Did I mention it sounds great too?
Out-takes
This section is really intended for people who already own a copy of The Lion of Scotland. For one reason and another the recording of this music was a rather unorthodox experience, and the resultant stresses led to a certain amount of hysteria in the sessions. When I first went through the session tapes before editing, I made notes of any particularly enjoyable mishaps or messing around, and finally, over seven years later, I dug the tapes out again and spent a couple of hours making this little montage.
John Purser is grateful for Janet Baker's non-presence, Carolyn Sparey shouts 'Stick it up your jumper' (it's the same rhythm as 'destruantur hostes' but easier to sing), Paula Chateauneuf counts to 2000 in Italian, and pretty much everything else is Catherine Bott displaying the art of shifting from the sublime to the ridiculous in a matter of milliseconds - listen out carefully for the 'boing'. I just laugh a lot in the middle distance.